Nov 17, 2006 at 04:12 PM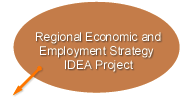 Environmental data was collected and analysed in a number of detailed surveys of:
geology and geomorphology
hydrogeology
marine environment
coastal processes
geotechnics
vegetation and flora
vertebrate fauna.
Like the landscape analysis, these surveys were conducted early in the programme in order to feed into the planning process.
After the survey information was interpreted, the environmental consultant was able to explain the opportunities that existed for sustainable development, and the constraints that existed from a conservation viewpoint.
The formal survey data was also supported by information from local residents with working knowledge of the Study Area and the management of the National Parks and State Forests.
These environmental inputs were absorbed by the planners and had a significant and determining effect on the form of the final Structure Plan.
Last Updated ( Jul 17, 2007 at 08:04 PM )